The Antminer S19 Bitcoin mining ASIC series is popularly lauded amongst the mining community as the most popular mining rig. Releasing back in the year 2020, this rig is the most popular in the market currently, with millions of users worldwide. Bitmain S19 XP, S19, and S19 Pro are some of the best and strongest revenue generators for the company.
However, today we will focus mostly on Bitmain Antminer S19 Pro and study different nuances of the rig and how it fares when you compare it with other mining rigs from the Bitmain Antminer company. So without further ado, let us dive right in and extensively study Antminer S19 Pro.
What Is Antminer S19 Pro?
The Antminer company has released four models in their S19 series. All of these models are established mining rigs in their own respect. However, today we are mostly focusing on the Antminer S19 Pro.
The Antminer S19 Pro is an SHA-256 algorithm crypto mining equipment that is manufactured by the company, Bitmain. This rig is specifically meant for mining Bitcoin and Bitcoin cash. It has a maximum hash rate of around 110 terahertz per second and consumes around 3250 wattages of power. This is one of the newest ASIC miners from Bitmain that was released back in the year 2020. One of the most prominent features of the mining rig is that it comes with its own PSU unit. As a result, this greatly enhances the overall productivity of your mining endeavor.
This new ASIC S19 Pro by the company Bitmain is claimed to be one of the most powerful mining rigs currently on the market. This rig boasts a piece of powerful machinery that demands a high power consumption. As a result, if you are thinking about investing your money in this rig, just make sure you have enough juice to run the rig.
However, if you ignore the gigantic power consumption of the device, it is one of the most profitable mining equipment in the market currently. It is known to produce results and profit, which hardly any other rig can compete with. So let us look at some of the specifications of the device in order to get a better understanding of what the device is all about.
Specification
Bitmain's Antminer S19 Pro is lauded as one of the most powerful ASIC mining rigs that is out there. And by the looks of the specification, that accolade is not at all wrong. Although it is just marginally more profitable when compared to other models, it still is one of the best rigs out there. Let us look at what is under the hood of Antminer S19 Pro.
Hashrate: while most other rigs in the market have a hash rate of 100 to 105TH/s, S19 Pro boasts a 110TH/s of hash rate. A considerable upgrade from other rigs.
Algorithm: This mining rig runs on a SHA256 algorithm, which is better than the older algorithm.
Release Date: This is one of the newest models from Bitmain. The Antminer S19 Pro was released back in May 2020.
Dimensions: This is a mostly medium-sized rig and boasts a dimension of 195 x 290 x 370 mm. Therefore, if space is your issue, then this is a perfect choice for you.
Weight: Even though this is a medium-sized rig, it is fairly heavy when compared to others. This rig weighs around 13 kg, so moving it is going to be tough. Therefore, consider the placement of the rig properly.
Power consumption: Antminer S19 Pro is a beefy device when it comes to power consumption. It has a power consumption of about 3250 watts, the highest in the series.
Efficiency: When it comes to efficiency, again S19 Pro shines fairly well. It boasts a decent number, 29.55 J/TH.
Price And Profitability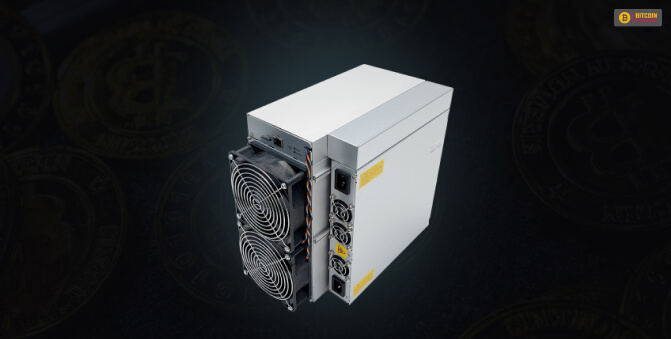 Since the device uses the SHA 256 algorithm, it is a top miner for currencies like Bitcoin or Bitcoin Cash. Both BTC and BCH use the SH 256 algorithm. Since Bitcoin and Bitcoin Cash are two of the giants in the crypto industry, therefore Antminer S19 Pro is one of the most profitable mining rigs available for purchase.
The S19 series offers different modes with different specifications and price points. Since the difference in features and price exists, you need to know exactly what you are paying for. As of 2023, an S19 Pro would set you around $3600. While the most expensive models from the S19 series would easily cost you around $6300.
The S19 Pro rig has a hash rate of around 110 TH/s, and if the rig is working with a $0.06/ kWh power cost, then the rig would generate around $5.75 in a single day. Therefore, the monthly amount would be around $174.77. These numbers are just speculation based on the current market. These are subject to change in the future, so do your research thoroughly before investing money in the rig.
Comparative Analysis
Although S19 Pro is probably one the beefiest miner from the series, there are other options as well. While some options are cheaper, others are a tad bit pricier. Therefore, having a proper idea would help you in selecting the best one for you:
Antminer S19: Has a hash rate of 95 TH/s and an efficiency of 34.2 J/TH.
Antminer S19j Pro: Has a hash rate of 92 TH/s and an efficiency of 29.50 J/TH.
Antminer S19 XP: Has a hash rate of 140TH/s and an efficiency of 21.50 J/TH.
Conclusion
In summation, S19 Pro would be a very profitable investment if you want to start mining. It would help you to understand the mining landscape and would help you generate a considerable amount of profit. Therefore, Antminer S19 Pro is one of the best rigs that you can invest in.
Additional Reading: