Crypto wallets are needed mainly to safeguard the key to the digital cash safe. But crypto wallets can be of different kinds. To take your pick, you need to have a better knowledge of that. The main distinct wallets are the 'hot' wallet and the 'cold' wallet.
If we put up a debate about hot wallet vs cold wallet, there will be lots of deciding factors. But the main difference between cold and hot wallets is that cold wallets are mainly hardware devices that keep the data offline, whereas hot wallets can be connected to the internet through a phone or computer.
But both types of wallets protect the private and public keys. The string of numbers and letters that are cryptographically generated can authorize the crypto transactions. The right type of wallet is subjective and depends on the amount of cryptocurrency you hold and on, your security preferences, and also how easily you want to access it. Before we get to hot wallet vs cold wallet, it is necessary to know what these are and how they work.
What Is A Hot Wallet?
Hot wallets are also known as software wallets. These are cryptocurrency wallets this is connected to the internet and the network of cryptocurrency always. While exchanging or trading funds, hot wallets are easily accessible.
These are the best choice for making everyday cryptocurrency transactions. It can be used to receive and send cryptocurrency with just a few clicks on their computer or phone.
Pros Of A Hot Wallet
Hot wallets are online, and they are easy to use. They do not even require any physical storage, and there is no transition between online and offline transactions.
These are accessible from mobile phones for trading.
Hot wallets can accept various tokens and are perfect for users and traders with a good portfolio.
Hot wallets can be created in minutes and are available for free.
Cons Of A Hot Wallet
Storing a lot of digital assets is not advisable in hot wallets, as there is a security issue.
Cyber theft is an issue in hot wallets as it leaves the funds exposed to hackers.
The security of the private key could be another issue that is stored in the wallet browser and the internet.
If the service plans and stops access to this service without any given warning, the users may lose their funds.
What Is A Cold Wallet?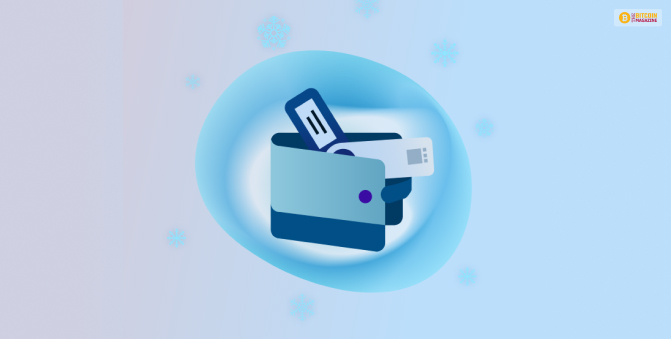 Cold wallets, also known as cold storage, are mostly responsible for storing private keys in an offline environment. These are not connected to the internet in any way. Cryptocurrency transactions with the help of cold storage mostly involve a singing process.
The transactions in the cold wallets begin online and then change to an offline process, and when the signing process is complete, all the information of the transactions made shifts back to the online network. Cold wallets also provide options like paper wallets and hardware wallets.
Pros Of Cold Wallet
They have a large storage capacity.
Most of the funds are stored in offline mode in cold storage.
Stealing funds from cold storage is a bit difficult as they need access to the cold wallets as well as physical possession.
Cold wallets are mostly encrypted with a pin for protection which provides an extra layer of security.
Cons Of Cold Wallet
Cold wallets are a lot less convenient when compared to hot wallets as they require power and also have to be connected to the internet.
This could be a bit expensive as they have to invest in cold wallets along with the cryptocurrency to get their funds secured.
These are not fit for online trading and purchasing.
They do not accept as many cryptocurrencies as hot wallets do.
Cold Wallet VS Hot Wallet/Hot Storage VS Cold Storage
| | | |
| --- | --- | --- |
| Basis | Cold Wallet | Hot Wallet |
| Price | A purchase of an external device or buying hardware is required, which costs around $50 to $250. | These are mostly free, and few an interest as well in storing cryptocurrency. |
| Use | They are better if you are storing the fund for a longer period. | They are mostly used when trading is related and are also convenient to access. |
| Maximum number of cryptocurrency | They can store from 1000 to tens of thousands. | This is similar to cold wallets. They can also store from 1000 to tens of thousands. |
| Acceptance | They only store reputed cryptocurrencies. | Hot wallet storage that accepts all kinds of cryptocurrencies. |
| Cybersecurity | In terms of security, cold storage is the best choice. There is no option of accessing the fund online, but it requires security measures to safeguard them from getting stolen, damaged, or lost. | In terms of security, hot storage is quite average. They are linked to the internet and are vulnerable to hacking. |
| Loss protection | Average. They have backup and recovery for the lost password, but there is no way to recover the password if the device is lost. | Good. Most of them have a backup and recovery option, and these can be accessed from multiple devices. |
| Access | This is not a suitable option if you want to trade your funds. | These, on the other hand, are suitable for trading and are accessible for making instant exchange of funds. |
| Ease of transfer to exchanges | Average. They require extra effort to connect online through Wi-Fi, USB, or any QR Code. | Excellent, they can be easily accessed as they are already connected to internet. |
Wrapping Up!
The biggest deciding factor for a hot wallet vs cold wallet is its convenience and security. Both methods can have the capacity to hold plenty of currencies of different kinds, but the right method depends on you whether you want to keep your crypto safe from any potential online hacking or get easy access to staking and trading.
If you choose to balance your convenience and security better, you can try combining both wallets. You can store the funds online, which you want to have easy access to for trading and earning interests and keeping the keys for larger investments offline for long-term storage. Keeping a large amount in a hot wallet can make the account a target for theft.
I hope the difference between a hot wallet vs cold wallet is a lot more clear than when you started reading this article.
Additional Reading: