Axie Infinity is one of the popular Ethereum-based play-to-earn games. The NFT and DeFi marketplaces have been gaining popularity these days. In this article, you will learn everything about the Axie Infinity platform and it is growing.
Let's start.
What Is Axie Infinity?
In simple words, this is an online video gaming platform based on non-fungible tokens. Axie Infinity players can mint and collect NFTs by playing this game. If they want just to invest and wait to get rich after a period of time, then you can easily do that too. The Axie Infinity marketplace is based on cryptocurrencies based on Ethereum.
| | |
| --- | --- |
| Release Date | 2018, March |
| Engine | Unity |
| Developer | Sky Mavis |
| Genres | Strategy video game, Online game |
| Publishers | Infinite Fun Game, Sky Mavis |
| Modes | Player versus player, Single-player video game |
| Platforms | Mac operating systems, Microsoft Windows, Android, iOS |
The platform is built on the Robin Network, and the official cryptocurrency of the game is Axie Infinity Coin or Shards. There is another token of the game, which is SLP. A few months ago, in February 2022, hackers stole around $620 million worth of cryptocurrency. There are sources that told the hackers had a connection with the Lazarus Group, and North Korea funds the group.
Axie Infinity: Tokenomics
Right now, the token is in the 53rd rank with a price of $9.63 (As of November 2022). In the last 24 hours, the trading volume is around $146,871,451. The market cap of AXS is $939,757,646, with a 96,312,541 circulating supply. The total supply of AXS coins is 270,00,000.
When the token was launched in 2018, the price was $0.18. Within a couple of years, the price went upto $160, so you can imagine how much the investors made by investing in Axie Infinity. Right now, the price of the token is $9.63.
After studying this platform, I can tell you Axie infinity price prediction 2030 will definitely increase a lot. It can reach a minimum of $100 per token, and if the platform works well, who knows, the price can reach upto $200.
Axie Infinity: Growth
The platform has increased 30 times since the start of the year. You can also check the Discord server to know the latest updates and features of the game. Also, you can join the Axie Infinity Reddit channel, from where you will get to know many things about the platform and game.
In the month of July 2022, the total revenue was $23 million, and it crossed the revenue of June by double. The January 2022 revenue was around $100,000. So, you can compare these data to understand how Axie Infinity is growing. But why and how is the platform growing, and what are the main reasons behind it? Let's find out.
The platform focuses on developing countries like Vietnam, the Philippines, and others.
Play-to-earn is a recent business model, and Axie is doing great in that region.
An Axie player can earn upto $20 per day, and recently it increased to $50 if you are a professional and passionate player.
When you earn AXS and SLP (Smooth Love Potions), you can either sell it through various decentralized exchanges or in the open market.
The minimum amount to play this game is around $5. So they don't need to invest a lot of money.
Axie Infinity: Start Playing
But, how to start playing the game. Which is one of the most interesting and crucial questions. Before starting to play this game, you will need a few things. Otherwise, you will be able to access it.
A Metamask Account (I guess you already have one)
You will need to buy NFT Axie, so ETH coins are a must.
A Binance account to manage and control your transactions.
And finally, a Ronin Wallet.
Now, follow these steps. These steps will guide you to the Axie infinity login.
First, open your Metamask account and transfer your ETH.
Nw, you need to transfer your coins from your Metamask wallet to the Ronin Wallet.
Now, you will have access to the Axie marketplace. There you can select your Axie and click the "Buy now" option.
You can see your selected Axies in your inventory.
Now, you can download the game on your iOS, Android, or PC and can start your journey.
Axie Infinity: Basic Guides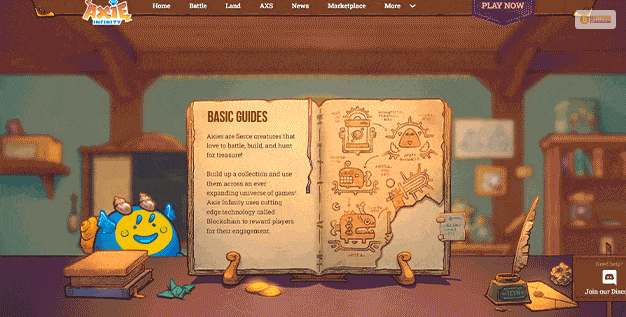 As you already know how to play Axie Infinity, it is time to know some basic things that you can do at the beginning. The platform offers you to earn while playing different games. You can monetize your time and also can earn real money. Excluding earning rewards, you will also find "Axie," adorable animals. These animals will engage in combats.
You will be able to earn incentives like SLP and AXS tokens. Later, you can exchange the tokens with real money. Or you can buy different Axie creatures in the marketplace Axie Infinity. You can also hold the tokens and wait for them to increase their value.
When you start playing this game, you can take the help of turn-based strategies. This is a strategic move that competitive players use to perform better. It is a move as if they are playing chess. Also, analytic ability, decision-making, and proper commanding are important for winning.
Axie Infinity: Game Modes
There are mainly two different modes that you can choose. These two modes are below.
PVE or player-versus-environment mode. In this mode, you can explore the game and level up.
PVP or player versus player mode allows players to gather their character on the battlefield where they will engage in combat. To rank up, you need to defeat your opponent.
You must have heard about the term nine Axie infinity, so what are these? There are nine different classes of Axies in this game that you can choose. You can see these Axies in the Axie infinity logo. These are as follows. There are three categories, and in every category, there are three Axies.
Tank Class
In this class, you will find- Plant, Reptile, and Dusk.
Critical Class
In this class, you will find- Beast, Bug, and Mech.
Damage Class
Also, In this class, you will find- Aquatic, Bird, and Dawn.
Further Words
As you can see, the platform is amazing and growing as fast as possible. So, whether you want to invest or play, Axie Infinity is one of the best platforms. If you want to learn more about this platform, feel free to ask in the comment section below.
Thank You.
Read Also: