In recent years, Blockchain has become a trendy buzzword with the potential to revolutionize different industries. Since its creation in 2008, blockchain has grown into a successful decentralized digital ledger technology that allows immutable, transparent, and secure transfer as well as storage of data.
The popularity of blockchain technology has grown exponentially since its launch, with extensive adoption in different industries ranging from healthcare to finance. However, with the hype in and around blockchain, it can be complicated to separate different facts from fiction. There is still a level of confusion related to the basic principles of blockchain technology.
So, which statement is true about blockchain?
In this blog, we will determine the most general comments about blockchain technology and determine which ones are actually TRUE.
Answering: Which Statement Is True About Blockchain?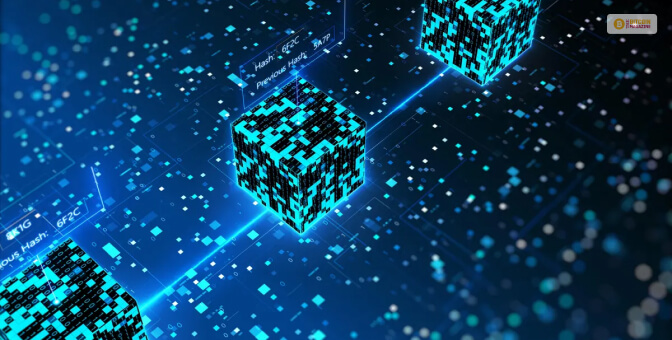 So, which statement is true about blockchain? Without wasting time, let's dive into the details of the true as well as the false statements about blockchain technology.
1. Blockchain Is The Same As Bitcoin:
Let's start with a false statement. While the technology was initially introduced with the launch of Bitcoin, it has since then evolved into becoming a distinctive decentralized technology in its own light.
Bitcoin is only one of the applications of blockchain tech – it can be utilized for a variety of applications, much beyond the world of crypto, like digital identity, voting systems, and supply chain management.
2. Blockchain Is A Public Ledger:
This one is absolutely true. Blockchain technology is a public ledger of sorts, meaning that the information stored on it is actually accessible to anyone who is on the network.
This can be achieved via a distributed network of nodes, which validates and records transactions on the blockchain, with any changes to the ledger getting validated by a huge majority of nodes situated on the network.
3. Blockchain Is An Immutable Ledger:
This statement is absolutely true. Once any transaction gets recorded on the blockchain technology, it cannot be deleted or altered. This is because of cryptographic hashes that are utilized for securing data on the blockchain technology.
Each block on the blockchain tech includes a unique hash, which gets generated with the help of using a hash from the previous block. This ends up creating a chain of blocks that cannot really get altered without even invalidating the complete blockchain.
4. Blockchain Is Completely Secure:
This statement is absolutely false! While the entire blockchain technology happens to be incredibly secure, it is not entirely immune to attacks. One probable vulnerability happens to be the 51% attack in which an attacker actually gains control over 50% nodes situated on the network.
This would enable the attacker to manipulate the blockchain by developing false transactions as well as recording them on the blockchain network. However, this kind of attack is incredibly complicated to execute, and the blockchain's decentralized nature makes it relatively less vulnerable to attacks as compared to centralized systems.
5. Blockchain Can Only Store Financial Transactions:
This statement is false. While blockchain technology was first used to store and transfer cryptocurrency transactions, it has since evolved to support a wide range of data types. In fact, blockchain can store any type of data that can be represented digitally, including images, videos, and documents. This has led to the creation of blockchain-based solutions for supply chain management, digital identity, and more.
6. Blockchain Is A Slow Technology:
This statement is not entirely true, but not completely false either. It happens to be partially true! While initial versions of the blockchain technology were slow because of the processing power needed to validate transactions, relatively newer versions of the technology have improved scalability and speed.
For insurance, multiple blockchain solutions, like Ripple and EOS, can process hundreds of transactions per second. However, the speed of blockchain is relatively slower as compared to traditional payment systems like credit cards, and there's ongoing research for improving both the scalability and speed of blockchain technology.
7. Blockchain Is Used By Only Tech-Savy Indivudals:
This statement is entirely false. While blockchain technology might have been used primarily by tech-savvy people initially, it has been adopted widely by different individuals and industries. This is inclusive of supply chain management, healthcare, finance, and so much more.
In fact, multiple blockchain technology-based solutions are actually designed to be accessible and user-friendly for users lacking technical expertise.
And It's A Wrap!
Now you have a concrete answer to which statement is true about blockchain and which isn't! Blockchain technology is versatile and powerful and comes with the potential to revolutionize multiple industries.
While there are certain misconceptions that continue to exist about blockchain technology, the statements that happen to be true are that the technology is an immutable ledger and public that can store any kind of data. It is also true that blockchain tech has become relatively more accessible to industries as well as individuals beyond the ones who are just tech-savvy.
In addition, while the entire blockchain technology boasts of being incredibly secure, it is not entirely immune to different attacks, and there is also ongoing research for improving the scalability and speed of the technology.
As this decentralized digital ledger technology continues to evolve and mature, it is vital for both individuals and organizations to determine its limitations and capabilities to make effective and informed decisions related to its use. Feel free to share your thoughts, opinions, and experiences about blockchain tech in the comments below.
Additional Reading: